Cessna Caravan Amphibious Seaplane
The Caravan Amphibious Seaplane's ability to operate from water or land enables your direct-to-resort  transfer from Panama City to almost any water location in Panama
Saves Valuable Travel Time
Our ability to fly you from one of Panama City's three airports directly to the your resort or yacht saves hours, or even a day of travel time compared to standard alternative transportation methods. Providing you seamless connections  with a VIP level of service.  Isla Perlas 15-20 minutes air time. Bocas del Toro, Isla Coiba and Boca Chica around one hour.
Fly on Your Schedule, Not the Airline's
Your schedule. Your selection of departure and final destination. Private and secure. We use exclusively private air terminals and services to provide a discrete and secure travel experience to our clients.
Fly with Confidence and Peace-of-Mind
Our Argus CHEQ Gold Rating provides passengers the confidence and peace-of-mind that the airline they are flying with exceeds world standards required for charter operators. We have qualified for the industry's most respected, unbiased, and detailed third-party charter operator analysis. The only charter operator in Panama with this rating.
Cessna Caravan EX Amphibious Seaplane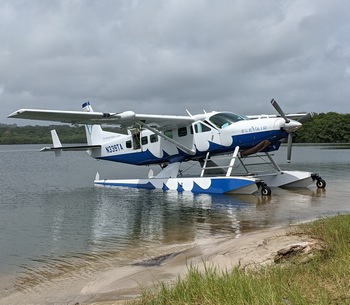 Returning to our Panama fleet in Q1 2013. VIP comfort with the flexibility to land at any island or bay resort in Panama.
For our yacht cleients, we are able to land directly at your yacht at anchor for the ultimate savings in transit time for passengers or cargo.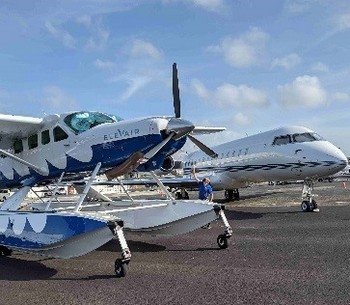 Whether you arrive into Panama by private jet or by international commercial flight, we have your connection covered with our optional VIP Meet & Assist services. Typically 45 minutes from your aircraft landing until you are en-route to your final destination. Always using private terminals for arrival immigration and customs.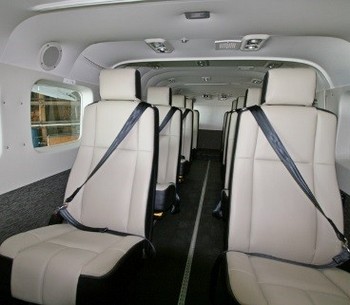 Large comfortable leather seats, large windows for each passenger and air-conditioned cabin assure a relaxing trip. No vibration and a low interior ambient noise level facilitates passenger conversation in flight.
Frequently Asked Questions
How many seats are there in the seaplane?
There are 8 passenger seats in the Caravan seaplane, however we have limitations for weight based upon passenger weights and luggage. Typically six passengers of under 200 lbs and 40 lbs maximum of luggage each for a trip from Panama City to Bocas Chica, Bocas del Toro or Pinas Bay.
How many flight crew are there?
We operate two-man flight crews to assure safety for aspects of your flight. The best training programs in the industry, the latest flight deck avionics and weather radar. Real-time satellite tracking and communication systems assure we are always having capability for communications.
Are the pilots experienced?
Our captains are some of the most experienced seaplane pilots in the world. Most have well over 5,000 hours experience in seaplanes, some are well over 10,000 hours. They have flown in many regions of the world before including the West Coast of Canada, The Maldives, Europe.
Panama weather is usually ideal for flying. I f there is a rain shower or thunderstorm we will fly around it or wait until it moves. We get no hurricanes or cyclones in Panama now do we see major large weather systems like you would see in the USA or Canada. All our aircraft have weather radar.
What about waves and swell of the areas you land the seaplane?
All water or marine locations we fly to are very sheltered and it is extremely unlikely that would be too rough to land or takeoff in the seaplane. Our water runways are anywhere the captain decides to operate from based upon his experience, and we can also utilize most land runways in Panama.
Tocumen Airport Private VIP Arrival / Departure Services
Arrival at Tocumen Airport on an International Flight
Completely avoid the crowds, lineups and hassles of public immigration, baggage claim and customs processes with our "VIP Meet & Assist Services" at Tocumen Airport.
Arriving international flight passengers are met by our Concierge immediately upon exiting the flight's jetway. Passengers are then directly transferred from their arrival gate by private van to the Signature Flight Services facility at the General Aviation Ramp for private inbound immigration, health and customs clearance.
A short stroll to your waiting chartered aircraft, and in about one hour you are arriving at your destination airport. A seamless and exhilarating start to the Panama Experience. Relaxed, refreshed and ready to unwind.
For passengers arriving on an international commercial flight as late as mid-afternoon, we can usually facilitate an extra night at the destination resort and avoid an overnight hotel stay in Panama City.
Departure from Tocumen Airport on an International Flight
For passengers departing from Tocumen Airport we can facilitate a seamless transfer from the inbound charter flight to the passengers' airline check-in counter.
The inbound charter aircraft will land at Tocumen Airport and passengers with their luggage are deplaned at the Signature Flight Services facility. An opportunity to relax in the VIP lounge, refresh with a shower and a change of clothes before the onward international flight. Passengers are transported to the Tocumen main passenger terminal for check-in and baggage drop at the airline's counter typically two hours before the international flight departure.
Carry on bags only? We can typically arrange to take passengers directly to the flight departure gate, bypassing standard terminal check-in, security procedures and lineups.
In most cases we facilitate an extra night at the resort and avoid an overnight hotel stay in Panama City. Seamless, private and exclusive
Argus Gold Charter Operational Certification
Argus CHEQ Progam Gold Rating
Fly with the confidence and peace-of-mind knowing that our aircraft operation has passed the industry's most respected, unbiased, and detailed third-party charter operator analysis.  The Argua CHEQ due diligence system offers charter operators, buyers, and passengers around the world the confidence and peace-of-mind desired for their upcoming flight
 For some people, flying is a stressful experience, filled with doubt and uncertainty. The Argus Gold Rating removes some of the nervousness that goes along with flying and getting confirmation of the safety history of a carrier. Adding one more degree of comfort to the entire process for flyers.
The ARGUS Gold rating indicates the charter operator meets or exceeds ARGUS standards, he company does not have outstanding safety issues, has had a Air Operators Certification from the country authorities for least a year and at least one turbine aircraft on certificate.
ARGUS is an independent rating system for aircraft operators that takes individual histories of the operators into account when assigning grades. All charter services must go through the ARGUS Charter Evaluation and Qualification, or CHEQ, process as it is one of the most respected systems for rating charter operators in the world.
The Argus CHEQ system is more than a simple history of how the operator does business: it is an indication that the operator in question is a legitimate operator with a safety record. It confirms the experience and training of pilots, along with any certifications the pilots may have as well. It even confirms that the operator does, in fact, have liability insurance.
ELEVAIR is an operating division of Toucan Seaplane Services Corp  I connect@flyelevair.com  I  WhatsApp +507 6677-2450