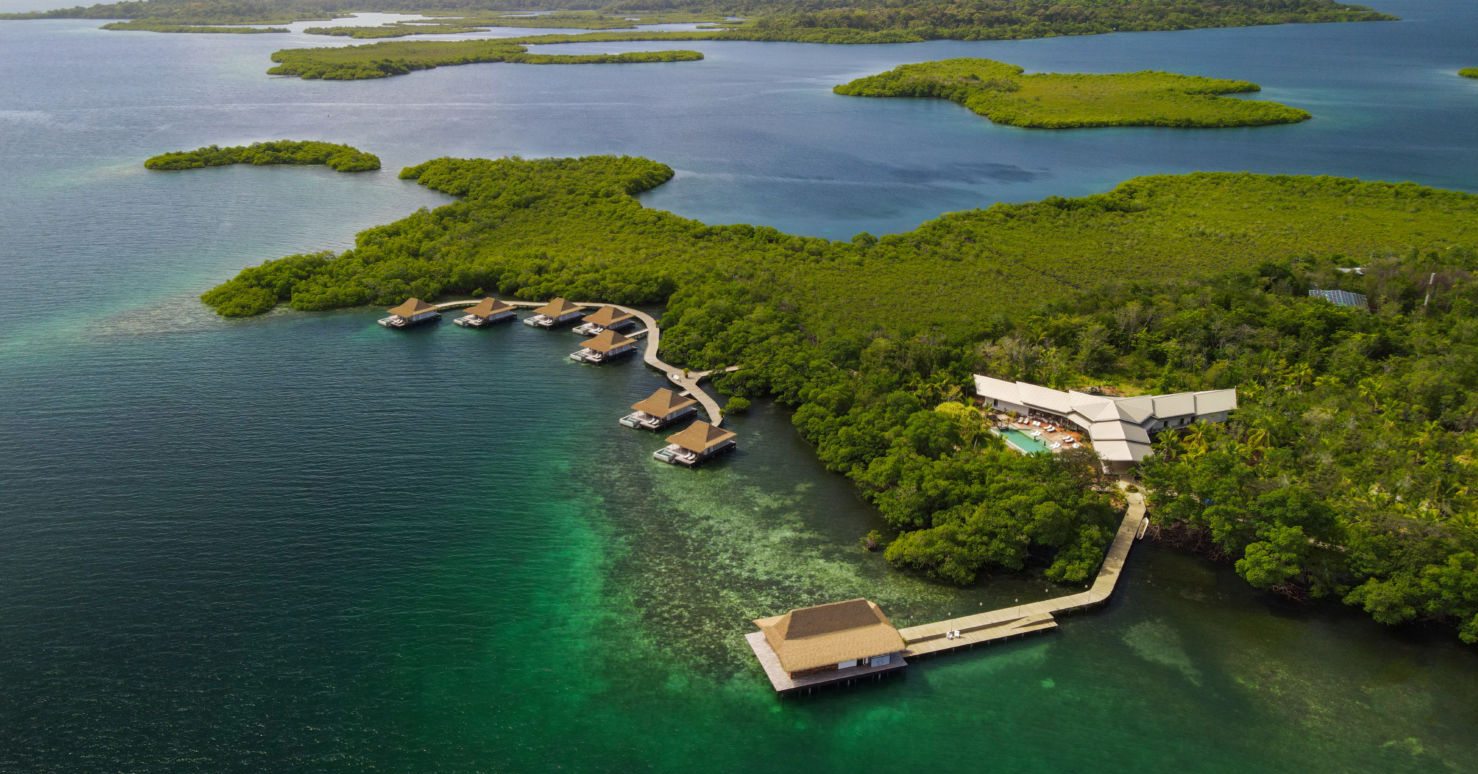 Journey to Bocas Bali on a Private Seaplane Charter
The Bocas Bali Experience can begin as soon as your international flight lands. You'll be greeted by our Client Concierge immediately as you disembark your flight and exit the public terminal for transport by limousine to the comfort of a private VIP lounge. Immigration, custom and health status processes will be private. Usually a quick washroom break then you be ushered to the ramp where your seaplane awaits. I minutes you begin your flight from the Pacific Ocean side of Panama to the spectacular Caribbean coast location of Bocas Bali Resort, the best luxury resort in Bocas del Toro. A relaxing and seamless experience.
The entire process from your international arrival to the spectacular water landing in the waters of  the Bocas Bali Resort is typically about two hours. We cater to the discerning traveller who values time, convenience and a personalized private experience combined with the an exhilarating seaplane flight to reach the spectacular Bocas Bali  resort.
ENJOY THE FLEXIBILITY (H6)
Departures to Bocas Bali as late as 3:30 pm
You depart on your schedule, not an airline's
Add a stop at one of Panama's unique remote islands
Add a Panama Canal aerial tour to your itinerary
ENJOY THE EXCLUSIVITY (H6)
Private facilities for departure & arrivals in Panama City
Land or depart directly from the waters in front of Bocas Bali Resort.
Only your travel companions on the flight. No airport lineups, crowds or
Personalised Client Concierge service
PLANES AND CONFIGURATIONS (h4)
We operate luxury Cessna Caravan EX Amphibious Seaplanes.
The cabins can accommodate up to eight passengers (dependent upon the trip and passenger weights), are roomy and air-conditioned with every passenger having a large window for the flight experience.
We operate with two-man flight crews and carry international insurance levels.
Heading 2
Heading 3
Here are 2 ways DMOs are getting rights to user-generated photos.
FREQUENTLY ASKED QUESTIONS (H3)
AIR CHARTER. What does chartering an aircraft mean?(H4)
Chartering an aircraft means renting it for your exclusive use. When you charter an aircraft with Elevair you are in control! You take off at the time you want and fly to the destination of your choice. Of course, you enjoy the same flexibility on the way back.
COST. How much does it cost to charter an aircraft? h4
The price of each flight is determined by the departure and destination locations as well as the various charges that we must pay: flight crew, fuel, landing fees, ramp fees, navigation services, etc. When we give you a quote for your flight, the total price always includes theses charges. There are no hidden fees! Is charter cheaper than a commercial flight? When you charter a plane with Chrono Aviation, the entire aircraft is at your disposal. Thus, the number of passengers does not affect the cost. From as little as four passengers, a charter flight often becomes more economical than a commercial flight. And because you determine the flight schedule, you have the option of returning home in the evening to save hotel and meal fees.
ONE WAY FLIGHTS. Can I charter a one-way flight?
Of course! Note that the cost of a one-way flight is about the same as that of a round-trip flight because the aircraft must always return to or originate from its base. The price reflects standard flight departure / arrival from our private VIP facility (Mapiex Fixed Base Operation) at Panama City's Albrook Airport or from the private Signature Flight Services facility at Tocumen International Airport if specifically mentioned. Rates are for the full charter, not per person, and for one way point-to-point transfers. Therefore there will be one deadhead / positioning flight for each segment.
AIRPORTS FOR DEPARTURE & ARRIVALS. What airports do you fly out of?
Our standard flight departure / arrival for clients is from our private VIP facility at the Mapiex Hanger at Panama City's domestic airport, Albrook Airport. This facility has direct street access with AAC Security Screening which means within minutes you can be from your transport and into our VIP Client Lounge for your seaplane pre-flight briefing. Or when arriving you can be into your hotel transport minutes after the seaplane arrives.
If you are arriving or departing on an international flight at Tocumen Airport we can offer our VIP Meet and Assist services or special departure services and your seaplane arrives and departs from the private Signature Flight Services facility.
We can also operate into the Panama Pacifico Airport, Pedasi Airport, David Airport or the Bocas del Toro (Isla Colon) Airport. Each has varying levels of services available so please contact us for details.
WATER BASED DESTINATIONS. What destinations do you fly to?
xx
CAPACITY. How many passengers can you carry?
Our aircraft can carry up to 120 passengers plus the flight crew. Multiple interior configurations are available to meet your precise needs.
LUGGAGE: How much baggage can each passenger bring?
Each passenger can bring a suitcase or a small bag weighing up to 25 lbs. (11.3 kg) on each flight. Of course, transportation of dangerous goods is strictly prohibited at all times. For more information, please see our baggage and dangerous goods policies.
AIRCRAFT: What types of planes do you fly?
Our passengers fly on board modern, comfortable and safe single-engine and twin-engine aircraft. A luxurious private jet is also available. See our fleet for more information.
MAINTENANCE: Are your planes well maintained?
For Chrono Aviation, the maintenance of our planes is paramount and will never be compromised in order to offer lower prices. Our monitoring and maintenance standards largely exceed the requirements of Transport Canada and are among the most stringent in the industry.
PILOTS: Who pilots your planes?
All our aircraft are flown by an experienced and certified pilot and co-pilot. Chrono Aviation's pilots are trained at the best flight schools and in the world's most advanced flight simulators. We select each of our pilots according to very strict criteria: full training, flight experience, demonstrated skills and the desire to be the best in the industry. Like all our staff members, our pilots offer a courteous and attentive service to every one of our passengers.
NOISE: Are your planes loud?
Our planes are among the quietest in their category. You will be able to comfortably sleep, work or talk with other passengers.
ONBOARD RESTROOM: Is there a restroom on board?
Our Dash-8 and Boeing 737 aircraft are equipped with an onboard restroom. For other aircraft types, we advise that you use the restrooms located at our terminals before or after your flight.
COMMUNICATIONS: Do you offer internet access on board?
No. You will, however, find complimentary Wi-Fi internet access in each of our terminals.
FOOD AND BEVERAGES: Can we eat and drink on board?
A high-end catering service and a bar service are available upon request on all our flights. The crew can serve you cold meals, snacks, drinks and refreshments at the time that suits you.