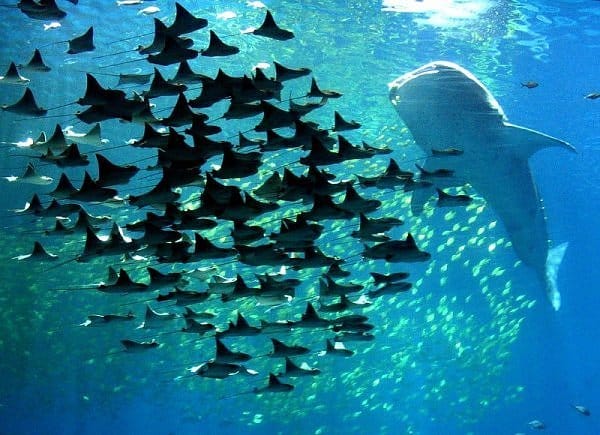 Destinations, SCUBA Diving at Coiba National Park
Coiba National Park is a world famous marine reserve and only a one hour seaplane trip from Panama City. The park is comprised of a group of 38 islands including Isla Coiba and the Pacific Ocean waters surrounding them. A SCUBA excursion by driving and boat transfer is typically at least a two event.
A UNESCO World Heritage Site, Coiba National Park and its unique location protects it from the damaging winds and other effects of El Niño. This allows the park to sustain the uninterrupted evolution of new marine species including whale and tiger sharks, sperm whales, sea turtles, angel rays and giant schools of fish.
Isla Coíba is the biggest (~500 square kilometers) island in Central America and the largest uninhabited island in all of Latin America. From 1919 to 2004 the island was a deadly and isolated penal colony, avoided by locals and other than the prison, was completely undeveloped.  It became the last refuge for a number of threatened terrestrial animals such as the crested eagle and several sub-species of agouti, possum and howler monkey (including a Coiba Island howler monkey).
The waters adjacent to the island are teeming with marine life. It is surrounded by one of the largest coral reefs on the Pacific coast of the Americas. The Indo-Pacific current through the Gulf of Chiriqui provides a unique dive environment. The warm current brings with it coral and many of the pacific tropical underwater life that you would not expect on the Pacific Coast of the Americas. Also with it come the larger fish/mammals such as humpback whales, sharks, whale sharks, orcas and more. Some 760 species of fish have been recorded here, including snappers, barracuda, amberjack, and three types of marlin.
Our exceptional day trips will depart our water base at the JW Marriott in the morning and in about one hour we land in the sheltered waters of Coiba. Here you'll step off onto your SCUBA dive boat for some of the most amazing diving in the world. And if you're lucky you'll experience the sight of a huge whale shark drifting by in one of your dives.  
Another of the amazing and unique adventure experiences enabled by seaplane travel in Panama.  
Our mission, to enable sustainable tourism activities with seaplane travel to  contribute to the economic viabilities of Panama's remote indigenous communities.