Sport Fish Panama Island Lodge - Air Charters
 Spend More Time Fishing and Less Time Traveling.

Clients can now benefit from a seamless transfer experience from Panama City's international Tocumen Airport directly to the David Airport in our King Air 200 twin engine turboprop aircraft on your schedule.
Completely avoid the crowds, lineups and hassles of public immigration, baggage claim and customs processes at Tocumen terminal with our "VIP Meet & Assist Services".
Typically airborne on your charter flight within 45 minutes of your initial arrival into Panama.
With our on-demand schedule and flexibility you can typically avoid a time consuming overnight stay in Panama City.
Early morning international arrivals to Tocumen have the opportunity to schedule a half-day of fishing with your boat departing from Boca Chica.
Mid-afternoon international arrivals will typically be at the island lodge and settled in well before late afternoon.
Late afternoon international arrivals will typically be accomodated in a waterfront hotel in Boca Chica. Then picked up the next morning at the hotel's dock to head straight out for a full day fishing.
Premium VIP Pressurized Twin-engine Turboprop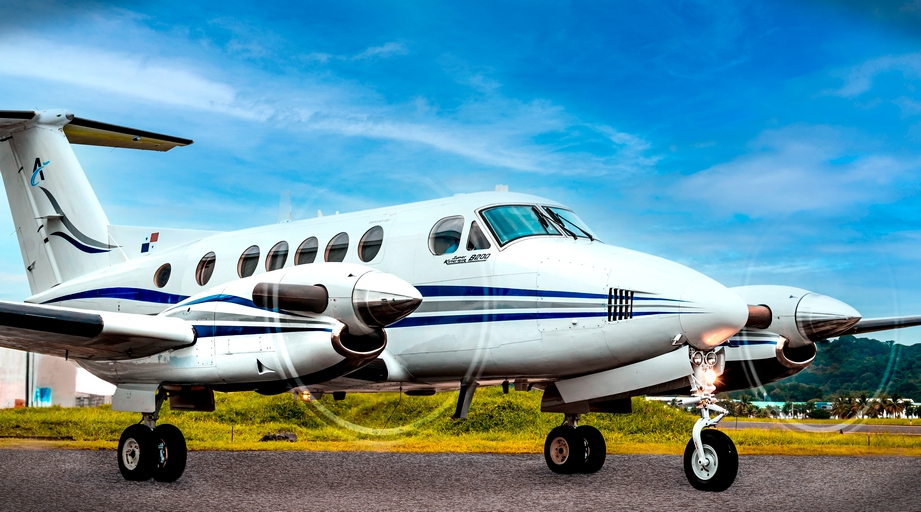 One of the world's most popular and comfortable tuboprop charter aircraft that you can fly in. Seating for up to 8 passengers in a roomy cabin that is larger than most small light jets. From Panama City to Bocas del Toro Airport in 45 minutes at a 25,000 foot cruising altitude, above most weather. The aircraft is ideal for direct flights to the resort from airports throughout Central America, the Caribbean and northern South America.
Interior & Catering
Six club-class seats plus a bemch seat that accommodate 2 passengers. Light catering as well as champagne, wine, beer, sparkling wateror liquors available upon request.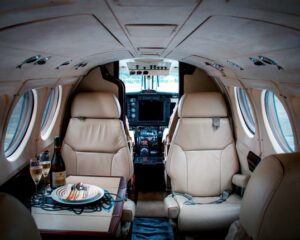 Cargo / Luggage:
The King Air 200 baggage compartment can hold up to 7-9 bags assuming your average piece of luggage is less than 5 cubic feet. Total 54 cu.ft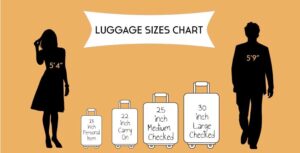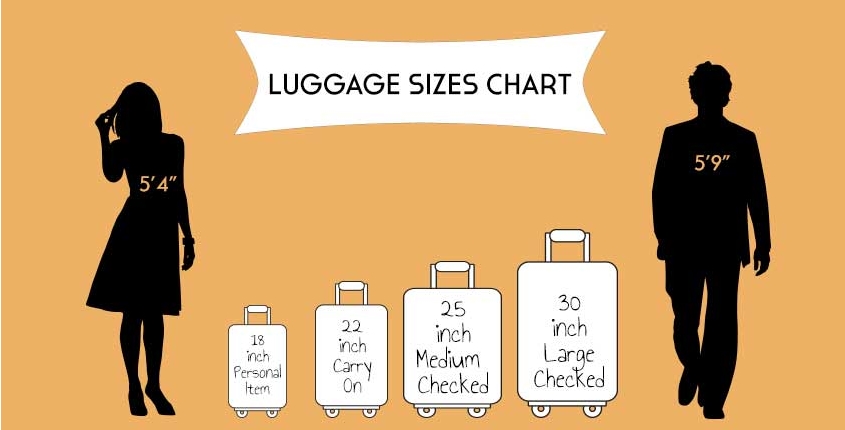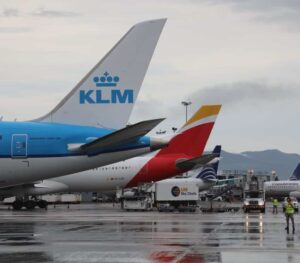 Tocumen Airport VIP Arrival / Departure Services
When you arrive at Tocumen Airport on an International Flight you'll completely avoid the crowds, lineups and hassles of public immigration, baggage claim and customs processes with our "VIP Meet & Assist Services".
For passengers departing from Tocumen Airport we can facilitate a seamless transfer from the inbound charter flight to the passengers' airline check-in counter.
Inbound to Panama City
Arriving international flight passengers are met by our Concierge immediately upon exiting the flight's jetway. Passengers are then directly transferred from their arrival gate by private van to the Signature Flight Services facility at the General Aviation Ramp for private inbound immigration, health and customs clearance.
A short stroll to your waiting chartered aircraft, and in about one hour you are arriving at your destination airport. A seamless and exhilarating start to the Panama Experience. Relaxed, refreshed and ready to unwind.
For passengers arriving on an international commercial flight as late as mid-afternoon, we can usually facilitate an extra night at the resort and avoid an overnight hotel stay in Panama City.
Outbound from Panama City
The inbound charter aircraft will land at Tocumen Airport and passengers with their luggage are deplaned at the Signature Flight Services facility. An opportunity to relax in the VIP lounge, refresh with a shower and a change of clothes before the onward international flight. Passengers are transported to the Tocumen main passenger terminal for check-in and baggage drop at the airline's counter typically two hours before the international flight departure.
Carry on bags only? We can typically arrange to take passengers directly to the flight departure gate, bypassing standard terminal check-in, security procedures and lineups.
In most cases we facilitate an extra night at the resort and avoid an overnight hotel stay in Panama City. Seamless, private and exclusive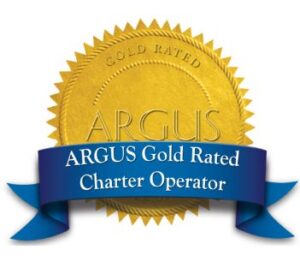 We Are an Argus Gold Certified Operator
Fly with the confidence and peace-of-mind knowing that our aircraft operation has passed the industry's most respected, unbiased, and detailed third-party charter operator analysis.
The Argus CHEQ due diligence system offers charter operators, buyers, and passengers around the world the confidence and peace-of-mind desired for their upcoming flight
For some people, flying is a stressful experience, filled with doubt and uncertainty. The Argus Gold Rating removes some of the nervousness that goes along with flying and getting confirmation of the safety history of a carrier. Adding one more degree of comfort to the entire process for flyers.
The ARGUS Gold rating indicates the charter operator meets or exceeds ARGUS standards, he company does not have outstanding safety issues, has had a Air Operators Certification from the country authorities for least a year and at least one turbine aircraft on certificate.
PRICING - TOCUMEN INTERNATIONAL to/from DAVID AIRPORT
PRIVATE CHARTERS
$4,500 total for up to 6 passengers one-way
With a private charter you and your travel companions have exclusive use of the aircraft. We depart from Tocumen Airport for David Airport immediately after your private off-terminal immigration and customs clearance is completed. For your international outbound flight from Panama we will schedule your departure from David Airport to have you at your check in counter two hours prior to departure. Price is inclusive of Tocumen Airport VIP Meet and Assist Service or Departure Services.
Rates are for the aircraft, not per person, and for one way point-to-point transfers. Therefore, there will be one deadhead / positioning flight for each segment.
SHARED (CROWDSOURCED) AIRCRAFT CHARTERS
Charter a Flight, and We'll Sell Your Unused Seats
Our crowdsourced aircraft charter pricing model enables you to share the cost of the charter aircraft with others. Schedule a flight at your convenience and we'll sell the unused seats on both legs (to & from David Airport) and sold seats will be credited back to you after the flight is completed. As you are the party initiating the charter, you select the optimal time for your departure. Refer to our Sport Fisg Panama Island Lodeg Crowdsourced Flights page for more program details, pricing and flight availability.
All prices are in $US.
Our charter rate price reflects flight departure / arrival from Panama City's Tocumen International Airport (PTY / MPTO) and include VIP Meet and Assist Service or Departure Services.
Crowdsourced Flight Cancellation Policy: When you crowdsource, you must leave at your scheduled time. Departure times cannot be altered, as other passengers are flying with you.
Our full Terms and Conditions can be found at
https://www.flyelevair.com/terms__conditions/
Private Transfers to / from Other Destinations
Private transfers can also be arranged from alternate destinations within Panama and internationally throughout Central America, northern South America and the Caribbean. For further information, please contact info@flyelevair.com
Questions?
Give us a call or write.
ELEVAIR is an operating division of Toucan Seaplane Services Corp  I connect@flyelevair.com  I  WhatsApp +507 6677-2450