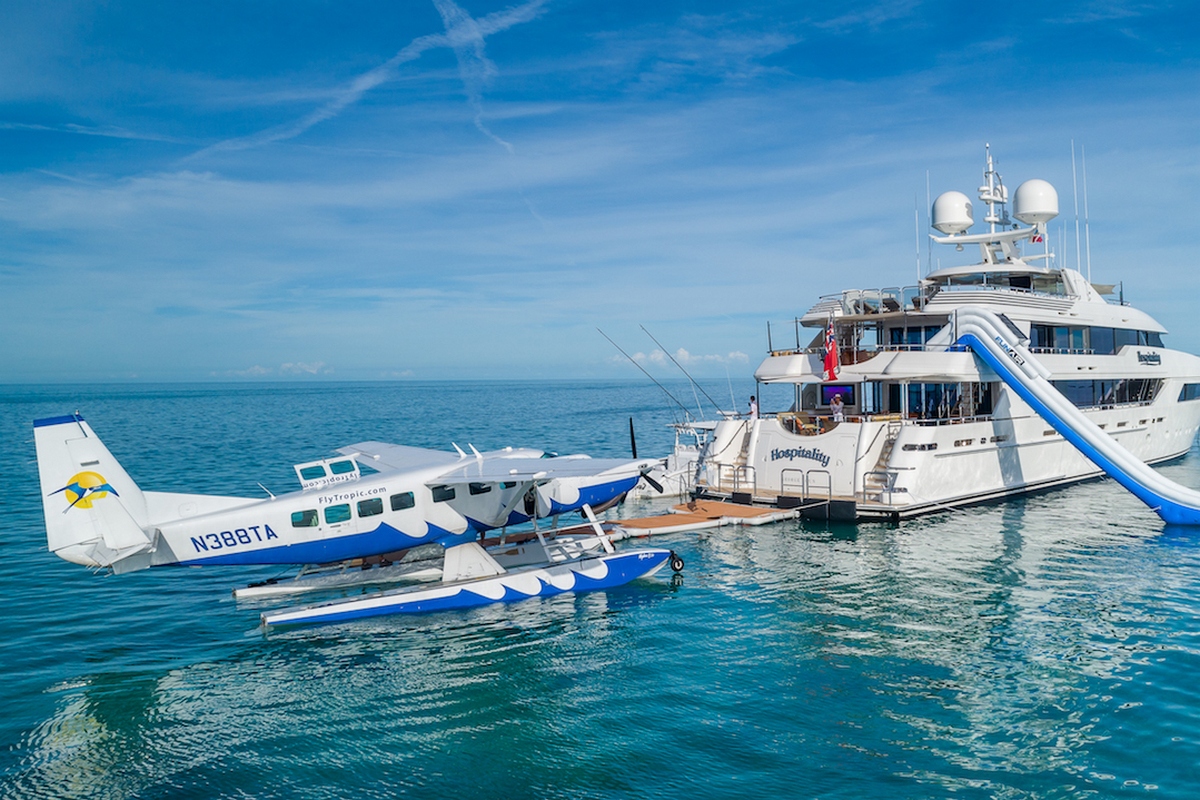 5 Reasons a Private Yacht and Seaplane Charter In Panama is the Ideal First Trip for your Quaranteam
Travel restrictions are being lifted. You've been homebound since March. You and your extended family are ready for a  long overdue vacation, Privacy, seclusion and health safety are critical. You want to be remote, but not isolated.
This vacation will be the one that you and the family will talk about for years. It must be special. It must be memorable. We're ready to help you pull it all together. We'll look after all the details for you.
A  yacht and seaplane charter is one of the safest travel vacation alternatives.  A private yacht charter that includes flying directly by seaplane from Panama City and boarding your chartered yacht about one hour later is one of the safest travel and vacation alternatives for your social bubble of family / friends. Grandparents that worry about exposure to COVID-19 can stay within their family bubble.
Peace of mind. Chartering a yacht and arriving by seaplane provides you and your quaranteam the peace of mind that is needed in the current travel environment. From the moment you start your vacation you'll have the sense of relief that you are in a fully controlled private environment. Everyone involved in the direct seaplane transfer and aboard the yacht is properly screened, the sanitizing protocols are rigorous and there is no exposure to anyone outside of your safety bubble.
Minimizes the travel hassle.  No frustrating security lineups and multiple health checks of airports and commercial airlines. No connections or layovers. A seaplane charter and yacht charter is the fastest, safest and most comfortable vacation. The vacation travel time to destination for active children is reduced to a few hours, the dreaded  "travel days" are eliminated. Your vacation time starts now.
 An optimum  balance of time and cost. A private yacht and seaplane charter isn't just for the ultra-rich anymore. A yacht and seaplane charter is the ultimate all-inclusive vacation. Absolutely everything is included; accomodations, gourmet meals, wine and drinks, all water and destination activities. The first vacation where you can actually leave your credit card and wallet at home. A
Panama has some of the world's most amazing locations. Experience the unique and amazing Panama that very few people know of. Every region of Panama you may visit is unique. The unknown Darien region with its special blend of nature and indigenous cultures to experience. The gorgeous and isolated islands and beaches of Coiba and Boca Chica with marine life like nowhere else in the world. The unexplored bays and islands of Bocas del Toro region including the famous Escudo de Veraguas island. The Central Caribbean Coast, from legendary pirate hangouts to tranqui isolated bays surrounded by nature. Regions of the world famous Guna Yala (San Blas) that very few tourists ever see or experience, from Porvenir all the way to La Miel where you can walk across the border to Colombia.
And you decide your itinerary based upon your criteria. Choose when and where you stop. What to experience. It's your special vacation.